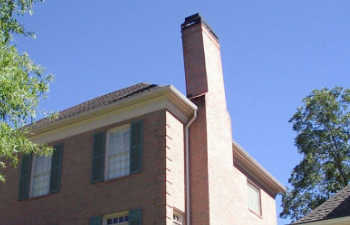 Wooding burning or gas fireplaces with brick chimneys are beyond cozy and represent the ultimate in comfort for many homeowners in the greater Atlanta, GA area. Anglin's Foundation & Masonry Repairs will inspect, clean and repair your brick chimney to prevent chimney fires that could cause significant smoke damage or destroy your home.
Why You Should Patch Masonry Cracks
Cracks between bricks or along mortared joints are warning signs of weak mortar and possible chimney collapse. Early crack repair can save expensive reconstruction down the road. Plus, those small cracks you see now could become extensive cracks after only one year. Cracks left unattended will allow snow, ice and rain to penetrate the walls, causing water damage to insulation and wall coverings.
Moisture inside your walls will lead to mildew and mold that can cause respiratory illness for the little ones, seniors and others with chronic respiratory problems like chronic obstructive pulmonary disease (COPD) or asthma.

Three Good News Items about Masonry Repair
The good news is that summer is the perfect time to repair chimneys while the fireplace is not in use, and masonry repair is an inexpensive project that professionals can take care of in just a few hours.
Additionally, minor chimney repair that doesn't require changing the construction of your chimney does not require a permit. However, we will contact the building inspector's office to ensure no permit is necessary and to schedule an inspection of our work when complete, if required.
What's Included in Your Chimney Repair
As part of the repair, we will:
Clean and inspect the entire chimney
Repoint brick mortar
Caulk the flue and crown
Patch cracks in the crown
Repair bricks with hairline cracks
Remove and replace damaged bricks
When we're done, we'll clean up so that you won't even know we've been there, except that your chimney will be in like-new condition. Call Anglin's Foundation & Masonry Repair today.
Posted on behalf of John Anglin, Anglin's Foundation & Masonry Repairs