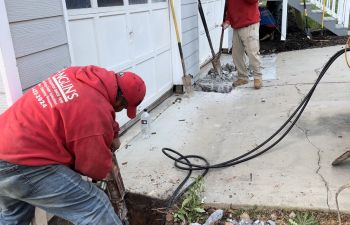 Building homes on top of landfills can pose several problems for the foundation and the overall structure. Below are some potential issues associated with constructing home foundations on landfill sites:
Settlement: Landfills are typically composed of various types of waste materials, including organic matter, construction debris, and other decomposable materials. Over time, these materials can decompose and settle, causing the ground to sink or shift unevenly. This settlement can lead to foundation instability, cracks in the walls and floors, and structural damage to the home.
Soil Instability: The composition of landfill soil is often heterogeneous and inconsistent, with varying levels of compaction and density. This can result in uneven bearing capacities, meaning that different areas of the foundation may experience different levels of support. Consequently, the structure may become susceptible to differential settlement, which can lead to structural problems and compromised stability.
Methane Gas: Landfills produce significant amounts of methane gas as organic waste decomposes. Methane is highly flammable and can pose a risk if it accumulates in the soil beneath the foundation or enters the home through cracks or openings. It is essential to implement proper gas collection systems and ventilation to mitigate this risk.
Soil Contamination: Landfills can contain hazardous substances, chemicals, and pollutants from various waste materials deposited over the years. These contaminants can migrate through the soil and potentially impact the groundwater. If the contaminated soil comes into contact with the foundation or the building materials, it may result in long-term health risks and structural deterioration.
Odors and Air Quality: Landfills can emit unpleasant odors and release volatile organic compounds (VOCs) into the air. These odors and pollutants can affect the indoor air quality of homes built on or near landfill sites, causing discomfort and potential health issues for the residents.
Landfill Settlement Monitoring: Building on top of a landfill requires ongoing monitoring of settlement and other ground movements. Regular inspections and assessments are necessary to detect any signs of foundation distress or structural damage promptly. This monitoring can be expensive and time-consuming.
It is important to note that building codes and regulations vary by jurisdiction, and some areas may prohibit or heavily regulate construction on or near landfill sites due to these inherent challenges.
If you have built your home on top of a landfill and you are experiencing foundation sinking or settling, it is crucial to consult with the experts at Anglin's Foundation and Masonry Repairs as we have the experience to fix your foundation the right way the first time!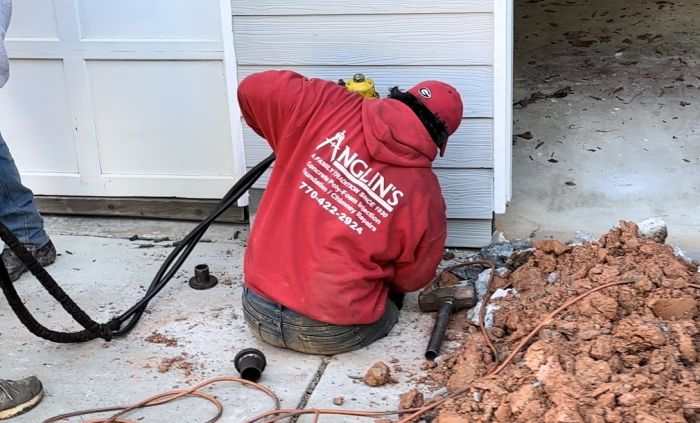 What to Look for in a Home Foundation Repair Company?
When selecting a home foundation repair company, it's important to consider several factors to ensure you choose a reliable and reputable company like Anglin's Foundation and Masonry Repairs. Here are some key aspects to look for:
Experience and Expertise: Look for a company that has extensive experience in home foundation repair. Check how long they have been in business and inquire about the expertise of their team. A company with a proven track record is more likely to have the necessary skills and knowledge to address your foundation issues effectively. Anglin's has been at the same location with the same phone number for more than 50+ years.
Licensing and Insurance: Ensure that the company is properly licensed and insured. This helps protect you from liability in case of accidents or damages during the repair process. Request to see their license and verify its validity. Additionally, ask for proof of insurance coverage, including liability insurance and worker's compensation insurance.
Professional Certifications: Look for certifications and affiliations with professional organizations related to foundation repair. These certifications demonstrate that the company follows industry standards and best practices.
Portfolio and References: Ask the company for a portfolio of their past projects and references from previous clients. Reviewing their portfolio allows you to assess the quality of their work and see if they have experience in dealing with similar foundation issues. Anglin's has an extensive portfolio of references as we have been fixing foundation in Atlanta for over 50+ years.
Comprehensive Assessment: A reliable foundation repair company should provide a thorough evaluation of your foundation's condition before recommending any repairs. They should assess the extent of the damage, identify the underlying causes, and explain the repair options available to you. Avoid companies that provide quick quotes without a proper assessment.
Transparent Pricing: The company should provide a clear breakdown of the costs, including any additional expenses that may arise during the repair process. It's important to have a transparent understanding of what you're paying for. Anglin's pricing is straightforward and transparent.
Warranty and Guarantees: Inquire about the warranty or guarantees offered by the company. A reputable company will stand behind their work and provide warranties that cover the repair services and any installed products. Understand the terms and conditions of the warranty, including the duration and what it covers. The Anglin's warranty is second to none!
Reviews and Reputation: Read online reviews and testimonials from previous customers. Check reputable platforms such as Google. Pay attention to the overall satisfaction of customers and any recurring issues or complaints. A positive reputation and good customer feedback are indicative of a reliable company. Anglin's reviews are outstanding.
Communication and Customer Service: Evaluate how the company communicates with you throughout the process. A trustworthy company should be responsive to your inquiries, address your concerns, and provide clear explanations. They should also be professional, courteous, and prioritize good customer service.
Written Contract: Before starting any work, ensure that all the terms and details are outlined in a written contract. This contract should include the scope of the work, the agreed-upon timeline, payment terms, warranties, and any other important agreements. Review the contract and seek clarification for any unclear points before signing.
By considering these factors and conducting thorough research, we are confident that Anglin's Foundation and Masonry Repairs will be the reputable Atlanta home foundation repair company that you choose to address your needs professionally and effectively so please contact Anglin's today!
Posted on behalf of John Anglin, Anglin's Foundation & Masonry Repairs