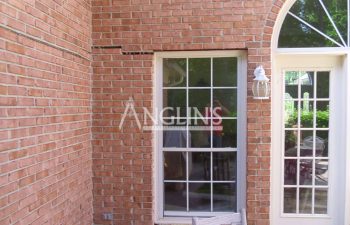 When you are inside your home, you want to be protected from all outside elements. If your window is damaged, it can cause your indoor experience to be not so pleasant. It is essential to take a close look at your windows every few months so that you know what state your home is in. Many window problems are actually related to your foundation. The specialists at Anglin's Foundation & Masonry Repairs are experts at telling whether any issues with your windows are related to foundational concerns.
Signs that you have window issues related to your foundation are:
Your window may be cracked without any known contact force.

Your window may not open or close smoothly.

You may not be able to open your window at all because it is jammed or stuck.

The framing around the window is cracked, damaged, or compromised.

Water or air is leaking in through cracks around your window. This is especially concerning if it is in the bay window area.
Many people have the first thought that they should replace a window or windows if there is a problem. Replacing a window that is damaged due to foundational issues will not correct the problem; the new window will eventually face the same problem.
Many homes with foundational issues have specific "symptoms," and problems with windows is one of the most common symptoms. Foundation settling is a common problem that can lead to a host of issues in the safety and stability of your home.
If you are experiencing problems with windows in your home and want an accurate assessment of the issues, contact Anglin's Foundation & Masonry Repairs. Our price protection guarantee and reputable name insure that you will have the repair you need done correctly and at a fair price.
Posted on behalf of John Anglin, Anglin's Foundation & Masonry Repairs