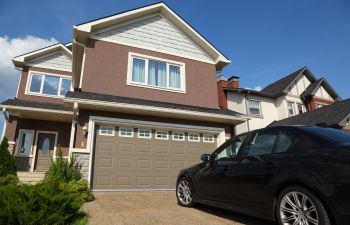 Have you noticed cracks, bulging, bowing or tilting in your basement wall? Your foundation's integrity is vital to the structure of your home. Safety and your property value are in jeopardy when there are signs that the strength of a basement wall has been compromised.
Signs Your Home Is in Trouble
You may have noticed drywall cracks, difficulty with doors and windows, gaps around windows and doors, sloping or sagging floors, a drooping or bowed roof, exterior walls that tilt or bow out or cabinets that are separating from the wall. Such things are warning flags that your home's foundation needs immediate attention.
Another early sign of a problem that you may have noticed are minor cracks in your basement wall. Not all cracks are indicative of a structural issue. Some cracks may only be a moisture intrusion or leak problem. Cracks leaking moisture are easier to identify than cracks of a structural nature. Some cracks are both a leak and a structural issue. Only a foundation professional or structural engineer can tell the difference.
A foundation professional or engineer will look for additional signs that indicate if your home is in trouble, such as damage or cracks to your sill plate and studs that sit on the damaged wall. Additionally, framing on the offending basement wall may have shifted or moved, causing other problems.
Ignoring The Problem
A compromised basement wall will not right itself and will continue to deteriorate. Any delay in addressing this issue will cost you exponentially. Acting promptly will save you money and stress.
Timely action when the wall is only cracked or slightly bowed, bulging or tilted requires a minimally invasive solution. A basement wall with a more significant deformity will cost more and cause more disruption.
Left untreated, your home will be severely compromised and will endanger the safety of the occupants. A collapsed basement wall can split flooring, snap beams and joists, crack drywall and break pipes at the very least. You may need to relocate during repairs, depending on the severity of the damage.
Fix The Problem Right
Save yourself from a larger bill, more stress and bigger problems. Don't wait to fix your basement wall. Anglin's Foundation and Masonry Repairs fixes the problem right. Call today for a free quote.
Posted on behalf of John Anglin, Anglin's Foundation & Masonry Repairs