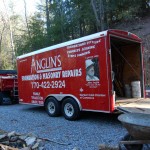 Concrete lifting is done when there is a sunken part of a concrete slab that needs to be lifted. Slabjacking has been used for many years to lift a slab by pumping a grout through the concrete, effectively pushing it up from below. However, there is a newer method that has been established called Foam Jacking, and it is the cleanest concrete lifting and stabilization process. Because the injection equipment is mechanically connected to the concrete slab, and mechanical seals engage when not injecting material, no loose material is introduced to the repair area.
At Anglin's Foundation & Masonry Repairs, we proudly serve clients in and around Atlanta with the evolved application of Prolift Polyurethane to provide an even higher standard of services to clients who need concrete lifting and stabilization services. Prolift concrete lifting and stabilization provides home and business owners with a long-term solution that are quick, clean, and cost effective. The process is done by injecting lightweight polyurethane foam into dime-sized holes in the concrete. The expansion of the high density polymers within the foam lift the concrete structure so that all portions are level. The foam fills in any voids under the concrete surface to stabilize it and keep it secure. After the foam filling is complete, the small holes are patched with polymer or concrete, and the site is available for immediate use. This allows businesses to remain open and home residents to be able to use their property immediately without burdening their time, schedules, or paychecks.
Anglin's Foundation & Masonry Repairs is proud to provide this highly advanced service to our clients. We have been serving the Atlanta area with reputable service since 1930 – that is 90 years of honest service that has kept us in business. We are the name to trust when it comes to all of your foundation and masonry needs. If you have need of concrete lifting and stabilization, please contact Anglin's Foundation & Masonry Repairs. We are ready to serve you on time, every time with service and quality that you can depend on.
Posted on behalf of John Anglin, Anglin's Foundation & Masonry Repairs