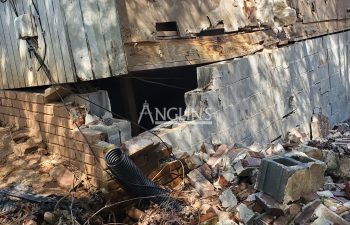 Here in Georgia, we do not live in a designated "flood area" vulnerable to severe flooding due to hurricanes. However, with all of the rain that we have experienced within the past few months, many homes are experiencing signs of flooding that take many homeowners by surprise. Water damage can be catastrophic to houses. As natural as water is to life and survival, water can be a destructive force against soils, wood, and home foundations.
Below are some measures that you can take to help protect your home's foundation against flooding and water damage.
Repair any leaks. Leaks or cracks anywhere in the plumbing, water lines, drainage pipes, roof, walls, or ceiling should all be repaired immediately to prevent water damage. If you notice any signs of discoloration on your ceiling or any dampness to the floor or basement, don't ignore them!
Clean out your gutters and drainage pipes regularly. When gutters are filled with debris, they are unable to transport excess water away from your house. When debris becomes saturated with water, it will become very heavy. This weight can cause the gutters to fall away from your home, posing a danger to your family.
Seal foundation cracks. It is easy to dismiss small cracks in your foundation as "normal occurrences," but you should not ignore them. You should seal cracks to prevent water from seeping into your home and compromising the foundation.
Consider installing a sump pump if you live on a basement. A sump pump is designed to pump water out of the basement should flooding occur. Research battery-powered sump pumps as they function without electricity – which may prove their worth in gold should a blackout occur during heavy storms.
Spruce up your landscape with a functioning French drain. Not only are these yard features attractive, but they are very effective in collecting runoff water in a yard to transport it away from a home's foundation.
At Anglin's Foundation & Masonry Repairs, we are here to provide exceptional repair for foundational issues. Yet, if we can help prevent you from having to go through them, we will gladly do so! Your home is your most important investment, and we encourage you to protect it before foundation problems become too costly to be repaired.
Posted on behalf of John Anglin, Anglin's Foundation & Masonry Repairs