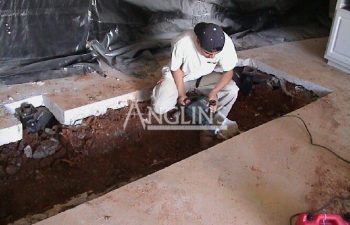 When you notice something wrong with your home, your first instinct may be to panic. After all, your home is quite possibly the largest investment of your lifetime. Ensuring that your home lasts as long as you need it to is understandably important. But what happens when something is amiss?
If your home is on a concrete slab or your home is on a basement of concrete floors, you must take immediate action if you notice any sinking or that the floors are uneven. A sinking foundation is a huge issue for any home. Your home should be stabilized by a solid foundation that will keep it erect and safe for a lifetime. However, specific problems can arise that will compromise a home's foundation, and these issues should never be ignored.
At Anglin's Foundation & Masonry Repairs, we are the name to trust for all of your foundation, masonry, and concrete repairs. We have been Atlanta's trusted source for expert repair since 1930. We know that unlevel or sinking concrete floors are a common problem for homes and businesses. We also know that this issue can be remedied with Prolift Concrete Raising and Leveling. This is a cost-effective, long-term solution that is quick and clean. The process first involves finding the root of the problem that is causing your floors to sink, sag, or crack. Accurate identification of the problem is the most critical first step. You surely do not want to throw money into a solution only to find that it is not fixing the actual problem! Once the root cause is found, we will inject lightweight polyurethane foam into dime-sized holes, or ports, into the concrete. The floors are then raised and leveled through the flow and expansion of high-density polymers within the foam. A fascinating fact about polyurethane foam is that, due to the nature of the foam, underlying soils are not burdened, and voids underneath the surface are filled and secured. After the work is completed, the holes that were drilled are patched with polymer or concrete, and the site is available for immediate use. This solution is just one of the amazing advanced techniques that Anglin's uses to correct foundational issues.
Anglin's Foundation & Masonry Repairs knows that your home is a major investment. Don't let sinking foundation concrete floors detract from the safety and value of your property. Contact Anglin's today for a free estimate for concrete floor leveling.
Posted on behalf of John Anglin, Anglin's Foundation & Masonry Repairs