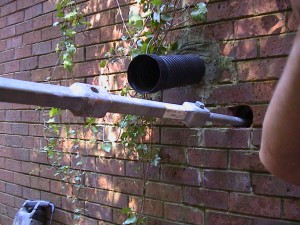 Foundation repairs can run the gamut from simply fixes that homeowners may choose to tackle on their own to major reconstruction needed by the professionals. Before any homeowner chooses to take on a DIY fix to a foundation problem, s/he needs to know that every issue involving the foundation of a home has at least one underlying problem. Simply injecting epoxy putty into cracks in blocks or bricks will only stop water from coming in. However, stopping water from coming in does not address the actual issue of a foundational problem.
At Anglin's Foundation & Masonry Repairs we, fully inspect a homeowner's property to determine the root cause of a foundation problem. A correct determination must be done in order for our foundation repair experts to determine the proper methods for correcting the problems. Anglin's Foundation & Masonry Repairs has over 90 years of experience in diagnosing and repairing foundation problems. Our methods for home foundation repairs include push resistant piers, slab jacking, helical piers and custom solutions using our proprietary welded steel brackets. We are Atlanta's reputable foundation repair contractors, and we are the name to trust. We offer free inspections and quotes for our foundation repairs so that our customers can shop around and determine that we offer the best services for the price.
Home foundations in Atlanta are susceptible to problems with settling, sinking, and becoming unleveled. As Georgia is infamous for her "red clay" soil, this soil can be more problematic than soils with higher organic composition. The experts at Anglin's Foundation & Masonry Repairs understand the clay soil composition in Georgia, and we offer solutions to all of the foundation issues that any homeowner may find. Call our experts for any signs that you see of foundation repair problems. You need a full service foundation and masonry repair contractor to address any issue within your foundation.
Posted on behalf of John Anglin, Anglin's Foundation & Masonry Repairs