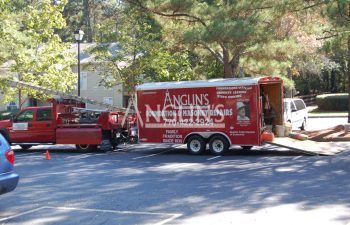 Just because the temperatures drop and you want to stay warm inside does not mean that issues around your home or business take a break. Concrete is a fickle material during winter because of how easily it can crack. Needing to have concrete work done during cold temperatures requires an expert who understands how quickly concrete dries and sets. Trusting someone without experience in working with concrete during freezing temps can easily lead to disappointment and having to spend more money than planned.
When temperatures change from hot to cold – and in Georgia, from cold to hot within just a few short days – concrete contracts and expands. If a home or office property is built upon a sinking or unstable foundation during the initial construction, concrete will not be able to hold up under the constant fluctuations. At Anglin's Foundation & Masonry Repair, our experts offer professional concrete repair.
Here in Georgia, we rarely experience extremely cold temperatures, and certainly not temperatures that remain below freezing for weeks on end. Yet, working with concrete in frigid temperatures brings the challenge of spreading the concrete evenly without it curing improperly. Concrete itself cures quickly, building durability and strength as it sets. However, the curing process slows down during cold temperatures. Extra care is necessary to ensure that concrete sets properly in cold weather. Whenever possible, concrete repair should be scheduled when temperatures are above freezing. With Georgia's temperate climate, that can often mean putting work off for a week or two until temperatures rise and remain above freezing.
Anglin's Foundation & Masonry Repairs is the name you can depend on for all of your foundation and masonry repair needs. Every concrete repair is unique, and our experts have the knowledge to provide you with the solution you need. With 90 years of experience, Anglin's has been Atlanta's trusted source. Call today for a free estimate.
Posted on behalf of John Anglin, Anglin's Foundation & Masonry Repairs