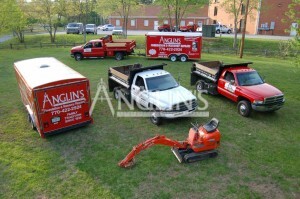 There are two types of difficult foundation problems. The first is a sinking foundation. If a building is exposed to excessive moisture, the ground around the foundation may erode, allowing the foundation to sink. Sinking foundations in Atlanta can be catastrophic to the structural integrity, appearance and value of a building.
The second situation is areas resistant to traditional foundation construction. For example, sandy soils can have their particles wash away over time, leaving gaps beneath the foundation. This leads to sinking. The solution to both problems is to restore structural integrity with helical piers.
How Do Helical Piers Work?
A helical pier looks similar to a giant steel screw. This has earned them many names, including screw piers, screw anchors and ground anchors.
They are spaced at specific intervals around the building to evenly distribute the weight of the structure. It is the helical design—the discs resembling screw threads — that spread the weight by contacting multiple points in the ground, creating a large surface area. By distributing the foundation load, the building becomes stable. They are so reliable, they are one of the best solutions for building in or near water, or when dealing with soggy soils.
At Anglin's Foundation and Masonry Repairs, we do not risk cracking your concrete foundation by attaching the pier bracket directly to the footing. Instead, we use our proprietary connection system, which does not require a bolt.
How Do I Know If I Need Helical Piers?
Many buildings have some natural settling and may develop an occasional nail pop or squeaky floorboard. But there are some signs you should never ignore, as they may indicate more serious problems:
Doors and windows become increasingly harder to open and close
Excessive or increased cracking of interior walls
Nails show through drywall and ceilings
Uneven floors
Leaning chimneys
Cracks in foundations or interior basement walls
Only an experienced foundation contractor can tell you if your foundation needs repairs and if helical piers are the right solution. If you have any of the signs of a sinking building, call Anglin's Foundation and Masonry Repairs in Atlanta today to find out if helical piers can restore your foundation.
Posted on behalf of John Anglin, Anglin's Foundation & Masonry Repairs