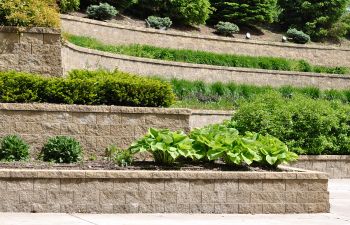 Many homeowners have a retaining wall along the side of their home, yet they do not know why it is there. Other homeowners wonder whether or not they need a retaining wall installed. Understanding what retaining walls are for will help you know if you need one or if your current retaining wall needs repair.
A retaining wall is a structure that is designed to "retain," or hold, the soil behind it. The most common types of retaining walls are built of concrete blocks, poured concrete, rocks, boulders, or treated timbers. All of these materials can successfully retain soil, but they have different life spans, and some are easier to use than others. Depending on your property's needs and the aesthetic that you want to achieve, you will need to choose materials specifically for your project.
Repairing a retaining wall requires the expertise of a foundation expert. Any of the following signs mean trouble:
Leaning – Walls with a noticeable slant are not going to last much longer. Tree roots, poor drainage, or failed footing are all causes of a leaning retaining wall that will need to be taken down and rebuilt.
Bulging – When masonry develops a "pot belly," the likely culprit is a buildup of water pressure behind the wall. Careful excavation behind the wall may allow a protruding section to be rebuilt.
Cracking – Minor cracks or blemishes in poured concrete retaining walls can be filled with hydraulic cement. However, if cracks are more than ¼-inch wide, ¼-inch deep, and more than 2-feet long, the wall most likely has structural damage.
Sagging – A pronounced dip in the top of a retaining wall indicates that the footing has failed in one spot. The footing may be able to be replaced.
Relying on a professional foundation repair company is necessary to save, repair, or rebuild your retaining wall. Since retaining walls perform a crucial function to the safety of your home and property, you do not want to take a DIY approach to repair your retaining wall. Contact Anglin's Foundation & Masonry Repairs for a free inspection and quote. We are the name to trust in Georgia!
Posted on behalf of John Anglin, Anglin's Foundation & Masonry Repairs