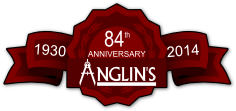 "Down through the chimney went Old St. Nick." Did Santa's grand entrance leave you with a tilting chimney? If you live in the Atlanta area, you can stay in the Christmas spirit and still get your chimney restored. We are offering a discount on chimney repairs this season as our gift to you. After all, you can't be blamed for Santa's chimney catastrophes.
Anglin's Foundation & Masonry Repairs is Atlanta's leading source for all types of chimney repairs, including work on the support footing or concrete foundation to correct a leaning or tilting chimney. We have a team of highly experienced masonry professionals who can tend to your problems with prompt expertise. We understand the safety concerns that accompany a chimney that is falling or one that needs mortar repair. Keep your family safe and let a professional ensure your chimney is structurally sound. We offer free chimney inspections and free quotes on the cost to repair chimney problems.
Be sure to mention the promo code "SANTA" to get an extra 5% discount on chimney repairs scheduled between December 15th through January 15th.
Posted on behalf of John Anglin, Anglin's Foundation & Masonry Repairs