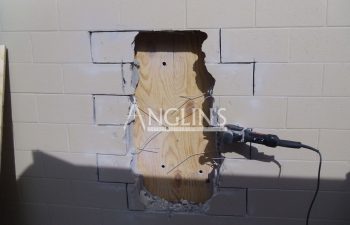 Basement walls are typically load-bearing, which means significant structural failure could end in catastrophe. If you suspect that your basement walls are compromised, hiring a professional to assess the damage is critical.
There are several signs that may indicate basement walls are failing. While it is helpful to recognize when there is a problem, having the structures examined professionally is recommended.
Leaning, Tilting or Bowed Walls
If you notice that walls are leaning on one or more sides, it may indicate a potentially dangerous structural problem. Bulging is another issue that is cause for concern – especially if cracks have appeared in the affected section.
V-Shaped Cracks
A V-shaped crack that runs from the bottom of a wall to the top is usually indicative of a foundational problem. The crack gets wider at its peak due to differential settlement. If you identify this problem in basement walls, hiring a specialist who deals with foundation issues is recommended.
Shifting Cracks
Misalignment of walls on either side of a crack points toward rotation of the footing or foundation. A foundation specialist can confirm the problem and provide solutions for repairing the foundation. For this kind of structural failure, consider hiring a contractor who can repair both the foundation and basement walls.
Continuous Crack from Basement Wall to Concrete Floor
Geotechnical or soil issues often cause a crack to form that runs through the wall and floor. This type of crack is continuous, rather than a series of intersecting cracks. There are several potential causes of continuous cracks, all of which should be addressed by qualified professionals.
Floor Cracks Parallel to Walls
A floor crack that is parallel to a wall is usually accompanied by horizontal cracks in the adjoining wall. The most likely issue in this scenario is a problem with the footing or foundation. It is now time to have your basement walls and foundation inspected before damage worsens.
Small cracks in walls and foundations are not usually a major structural concern, although you should consider moisture intrusion. However, cracks that worsen over time could mean there is a problem with structural integrity.
To ease your concerns or repair damage to basement walls and foundation, reach out to Anglin's Foundation & Masonry Repairs for an inspection today.
Posted on behalf of John Anglin, Anglin's Foundation & Masonry Repairs