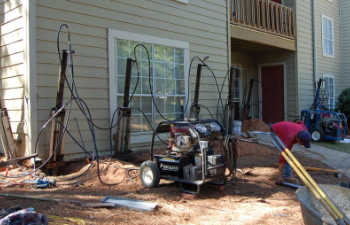 For over 90 years, Anglin's Foundation & Masonry Repairs has been the trusted source for homeowners and commercial property owners who have problems with their foundations. Our customers have relied on the knowledge and expertise of our professional team for almost a century. We have engineer-designed solutions specifically developed to make our foundation repair process more effective and convenient.
No matter how significant or complex the problem seems, our team of experienced and professional foundation repair specialists can provide a solution to your problems. We have the staff, equipment, systems, and workforce to accomplish any job! Having the experience as being a masonry contractor, we have learned that plumb, straight, and level are the essential necessities for all walls. We repair sinking foundations, steps, porches, and leaning chimneys, basement walls, and more. These repairs often have to be vertically and horizontally placed back simultaneously – and Anglin's can do it.
At Anglin's Foundation & Masonry Repairs, we have the tools and the expertise to provide a wide range of foundation repair services and other specialized services. Our company can help with stabilizing your foundation, restoring concrete slabs, retaining wall repair, floor leveling, bay window repair, concrete driveway and walkways repairs, deck post repair, and more.
At Anglin's Foundation & Masonry Repairs, we have the solution to your problems because we hire and train our staff by family employees who have been repairing homes for decades. We are not focused on how many piers we can sell you or how much work we can get out of a project – we simply focus on providing you with the best services and a permanent solution at the very best value.
We are sorry to hear that you have structural foundational problems, but we are here to provide the guaranteed service you need. Call us today!
Posted on behalf of John Anglin, Anglin's Foundation & Masonry Repairs