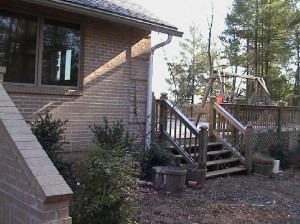 Spring is officially here and we're all excited to get outside and enjoy the great outdoors. If you're at home, the best place to be in the spring is on your deck. Reading a book, eating and grilling are all activities ideal for these perfect temperatures that spring brings us.
If you're planning on being on your deck more often this spring, it's important to ensure that your deck is ready for you. Anglin's Foundation & Masonry Repairs has years of experience in deck post repair. Over the years your deck post and support columns, footings and foundations may begin to settle and sink into the ground.
This sinking and settling may cause your deck to become unlevel and unstable. In this situation, being on your deck could even be unsafe. It's important to ensure that your deck is not only visually level, but that it is a safe place to be this spring.
There are many possible reasons your deck may be in need of repair. The soil that surrounds your posts may shift, compact, settle or sink due to various factors. Soils have different load capacities and if your load exceeds that capacity, it will most likely sink. There may also be sinking if there is concrete that is unsupported. This can be due to improper drainage. There are also times when your deck may have been constructed with poor craftsmanship.
Regardless of why your deck needs repair, Anglin's Foundation & Masonry Repairs is your trusted source for diagnosing and repairing your deck post to make your outdoor deck time a safe and secure time as well. Contact Anglin's Foundation & Masonry Repairs today.
Posted on behalf of John Anglin, Anglin's Foundation & Masonry Repairs