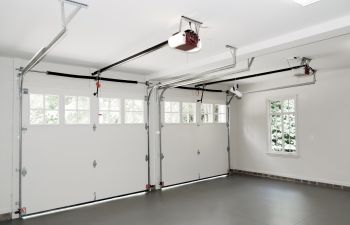 Home ownership is fraught with constant issues. Do you have a problem with your garage door in your brick or stone garage? It may be that your garage has begun to settle and your garage door may be having problems with this.
Cracks And Sagging
If you haven't already, go and take a look at the masonry above your garage door. Are there any vertical or stepped cracks in the masonry above the garage door? Perhaps someone tried to fill in these cracks to hide the problem. Is there a sag in the opening for your garage door? Unfortunately, these cracks or sagging indicate a serious problem with your garage. The good news is that it is fixable.
What Is a Lintel?
Garage door openings create a significant amount of stress on a structure. A garage made of brick or stone must hold up a massive amount of weight over the large span of a garage door. Cracks in the masonry indicate a failure of the supporting feature known as a lintel. As these cracks widen or worse, sag, your garage opening is closer to a total collapse.
A lintel is a beam that spans a window or door in a wall to support the weight above the opening. A lintel can be wood, metal or concrete. Typically, the lintel above a garage door is steel. Often, a lintel is installed in such a way as to be hidden from view so the aesthetic of the building is maintained.
A Real Game Changer
Filling in those cracks in your masonry may be tempting but does not solve the problem of your walls failing. It is time to call in a professional masonry team to fix the cause of the problem before significant sagging or a collapse keeps you from using your garage door.
The professionals at Anglin's Foundation & Masonry Repair can assess the situation and direct you to the best solution. You may only need reinforcement of your current lintel. Or, if the problem has been ignored for a long time, it may require a complete lintel replacement. The professionals at Anglin's will steer you in the right direction. Call today.
Posted on behalf of John Anglin, Anglin's Foundation & Masonry Repairs