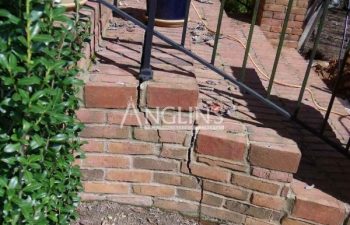 When you enter your home, you are entering your castle and place of retreat. The feeling of relaxation and home should hit you as you approach the steps and doorway. However, when those steps are sunken and broken, not only do they spoil that welcome home, they also pose a safety hazard.
What Causes Sunken Steps?
Several things cause sunken steps, but the most common one is soil. When the steps were poured, the soil may not have been level and firm; or, moisture, erosion and other conditions can shift the soil. Once the balance has been disturbed, the steps lose their support and fall or sink into the ground. Before you know it, your steps are uneven and unsightly.
The soil could be excessively dry, which causes it to contract. On the other hand, it could be too wet, causing an inability to hold the concrete in place firmly. Or the wrong type of soil was used in the beginning. In addition, different types of soil can bear different amounts of weight. Concrete steps are heavy, and if the soil can't support the weight, sinking and cracking will become a problem.
Why are Sunken Steps a Problem?

Many homeowners put a high priority on the feeling of home. They take particular pride in making sure everything looks its best all the time. Unfortunately, sunken steps are an eyesore and will bring down the curb appeal of your home.
Even more important than aesthetics, sunken steps are dangerous. It is easy to trip and fall when the surface isn't even, particularly for older adults or young children. Anyone who is carrying something to or from the house has an additional hazard to worry about. In addition to not wanting anyone to get hurt, a bad fall can lead to big expenses if an injury occurs.
Repairing your sunken steps doesn't have to be put off. Instead, you need a concrete expert you can depend on to fix it right – the way it should have been done in the first place. That's where Anglin's Foundation & Masonry Repairs comes in. We will come out and give you a free estimate on your sunken step repairs. That way, you know exactly what to expect.
Then, we will repair your steps and make sure the entrance to your home is as good as new or even better. Contact Anglin's Foundations & Masonry Repairs today.
Posted on behalf of John Anglin, Anglin's Foundation & Masonry Repairs