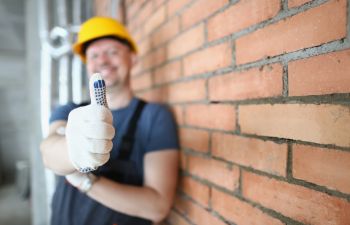 Maintaining the structural integrity of your property is essential. In the worst case scenario, walls may collapse entirely or foundations could suffer damage, resulting in a serious safety hazard.
At Anglin's Foundation & Masonry Repairs, we have 90 years of experience dealing with structural issues for Georgia residents. Our reputation is outstanding in returning your home or business to a livable and aesthetically pleasing condition. That said, extensive repairs represent a high cost and source of stress. It is much better to deal with any masonry problems as soon as they become apparent.
Common Signs of Masonry Issues
Vertical cracks that appear in foundations are due to the material expanding naturally. While this does not mean that the wall itself is in immediate danger of collapse, it does allow moisture from rainfall to intrude. Cracked brickwork is usually easily repaired by injecting epoxy or urethane. It may be necessary to install an expansion joint to alleviate some of the stress on the bricks.
Moisture entering your brickwork unchecked damages the material behind. Waterlogged concrete will cause the bricks to bulge outward in a particular area. Wood or plaster will soften, producing a sunken appearance. We can remove the damaged bricks and repair the affected area behind them, effectively rebuilding that section of wall.
The structural integrity of brickwork is maintained by each brick taking its share of the walls weight and pressure. If one brick becomes compromised, this creates a domino effect where surrounding bricks will become similarly affected. Compacted bricks are easily identified. They will appear bent or cracked. As well as replacing the compromised bricks, we might recommend underpinned push piers for additional support.
If you notice that the mortar separating your bricks has started to wear away, contact Anglin's Foundation & Masonry Repairs as soon as possible. Repointing or tuckpointing your walls is a relatively easy and straightforward process. Left unchecked, disintegrating mortar causes brickwork to loosen and rub together, which is potentially dangerous and costly to fix.
Select a Masonry Expert You Can Trust
With a reputation for excellence, customer satisfaction and cost effectiveness, Anglin's Foundation & Masonry Repairs is a name you can trust. We offer a comprehensive assessment of your masonry problems and commit to fixing both the apparent and any underlying issues. Contact our Marietta, Georgia, site today.
Posted on behalf of John Anglin, Anglin's Foundation & Masonry Repairs