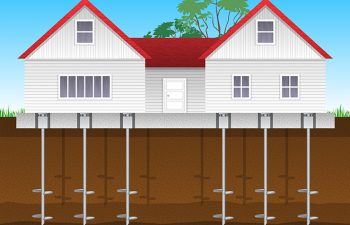 Are you building a new house? Let's start at the beginning, your foundation. The first step to new construction is to excavate the site of the topsoil to prepare for the foundation. Other than deciding where on the property you are planning to construct your new building, you must decide what type of foundation your building will require. Does it need pre-construction piers?
What is the Foundation's Job?
A foundation is the lowest part of any building that comes in direct contact with the soil beneath it. Foundations support and transmit the live and dead weights to the subsoil. It is vital to the integrity of your building that your foundation does not fail.
Foundations must be carefully constructed. The depth is determined by the requirements of the building. Some decisions, like the need for pre-construction piers, may be made by the architect and be based on results from a laboratory soil test.
Types of Foundations
The foundation required is determined by the nature of the soil on site and the load the foundation needs to support. Foundations can vary from a simple strip footing to a complex and more reliable pre-construction pier foundation.
It is important that safety against shear failure of the supporting soil be more than adequate. Any settling should not cause any deformation or damage to the building, nor interfere with the function of the structure. Pre-construction piers greatly reduce and prevent later foundation shifting and sinking.
Pier Foundations
Pre-construction pier foundations are used primarily if there is a layer of weak soil structure near the surface that is too weak to support the weight of the building. Piers are then used to bypass this weak layer to a stronger layer below that can support the loads. Not many builders are familiar with the long-lasting and strong reinforcement of pre-construction piers.
Call the Experts
To learn more about pre-construction piers, call the experts that specialize in them. Anglin's has been in the foundation business since 1930 and prides themselves on their solid reputation. Anglin's can handle several types of piers from helical piers to resistance or push piers. The Anglin's method of installation is unique and has proven itself over many years of use. Call now at (770) 422-2924.
Posted on behalf of John Anglin, Anglin's Foundation & Masonry Repairs