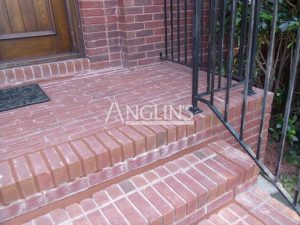 Have you heard about the new color of the year? Living Coral (a bright coral shade) is Pantone's 2019 Color of the Year. They describe it as "an animated, life-affirming shade of orange, with golden undertones." Isn't is amazing how colors and styles come and go? It seems like this color was just splashed all over the episodes of Golden Girls not too long ago. Now, it's back for 2019.
While you might consider incorporating some Living Coral in your home, there is one spot in your house that needs to remain stable and unchanging, your stoop. If your stoop is sinking, cracking or tilting it's time to restore it back to its original integrity and stability.
The stoop at your house is the place where you can make a statement and an impression. It's also a place where memories have been made. Do you recall greeting and saying goodbye to special guests as they come and go from your home? Your stoop also provides you and your guests a stable and solid entrance into your home. You and your guests will enter with a secure feeling.
If you want to incorporate a new, fresh entryway, you're welcome to splash a Living Coral wreath on your door. However, if you're in need of a timeless solution to your sinking, tilting or cracking stoop, call Anglin's today. We will give you a free quote and offer you a price guarantee and personally guarantee you the best value. We are a proven value since 1930; we do not come and go with fads and trends.
Posted on behalf of John Anglin, Anglin's Foundation & Masonry Repairs