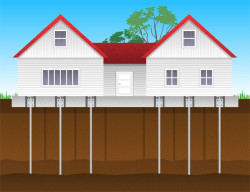 Have you ever heard that children's song about the wise and foolish man? It talks about the wise and foolish builders of a house. The wise man builds his house upon a rock and the foolish man builds his house on the sand. In the end, the foolish man's walls come tumbling down. Not a real big shocker there, huh?
In reality, most builders would never describe themselves as foolish, but there are times when a builder makes a foolish mistake in building a solid foundation. The results are often devastating and can cause literal tumbling down of walls. This is serious business and not just a song sung by children.
If you're living in a home with less than perfect home construction with foundational problems, it's time to call Anglin's for your quality foundation repairs. Anglin's will inspect your property to determine the root cause of your foundational problem. After determining the cause, we will determine the most effective and safe method for repair.
We have over 90 years experience in diagnosing and repairing foundation problems. We utilize foundation repair methods such as push resistant piers, slabjacking, helical piers and custom solutions using our proprietary welded steel brackets.
Don't get caught using an inexperienced or even foolish home foundation repair company. Contact Anglin's today for your expert foundation repair services. We have a lifetime of experience backed by a lifetime warranty so you can feel assured that a team of wise repair experts will complete your foundation repair job.
Posted on behalf of John Anglin, Anglin's Foundation & Masonry Repairs