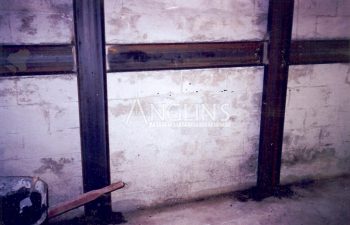 One thing we tell our clients is to be constantly aware of any changes occurring to your home. An easy way to do this is to make "seasonal checks" of your home. At the turn of each season, do a walk-through of your home (both inside and out) and look for any changes in the foundation or soil around your home's foundation. Leaning or bowing basement walls are pretty much a guarantee that your home is experiencing foundation failure. The most common cause of this issue is excess pressure in the ground that puts a massive amount of stress on the soil around your home. As more and more pressure is applied to the walls of your basement, the walls will begin to bow or lean.
Correcting bowing or leaning walls is critical because your basement foundation walls provide stability to your home. Tie back anchors are an ideal solution for this type of foundation repair. Anglin's Foundation & Masonry Repairs has significant experience using tie back anchors, and our company can provide the expertise needed to secure your home.
Tie back anchors are used on bulging walls by applying opposite pressure to cancel out the hydrostatic pressure from the ground soil. These anchors apply a huge amount of force to straighten walls, and when used with expertise, these anchors can straighten walls without damaging them. Tie back anchors are considered to be a highly versatile foundation repair option, and they can be used in a variety of situations:
Basement walls

Retaining walls

Shoring

Tilt-up construction

Sea walls

Temporary all support
Our masonry experts are very experienced in diagnosing and repairing problems with compromised foundations. Contact Anglin's Foundation & Masonry repairs with any concerns you have regarding your home's foundation.
Posted on behalf of John Anglin, Anglin's Foundation & Masonry Repairs