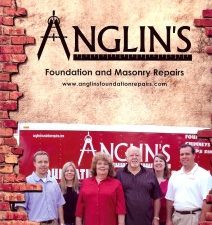 When you need repairs done to fix damage in your home's foundation, it is important to choose the right contractor for the job. Some contractors may only treat part of the problem, which can lead to future extensive damage and costly repairs. Here are the top three reasons why you should choose Anglin's Foundation & Masonry Repairs for your home improvement project.
Price Protection Guarantee
At Anglin Foundation & Masonry Repairs, we guarantee our pricing in writing to be the most affordable in the industry. If a qualified contractor offers a lower price for the same work within 30 days, we will not only match that price but add a 10% discount. Our company has not changed its pricing in the last 10 years. We have the experience and state-of-the-art equipment to address any structural issue and we are proud to stand behind our work.
Keep in mind that our competitors cannot match the work we perform. Many companies perform foundation repairs by only stabilizing the masonry walls or they fail to close existing gaps. We fix all the masonry issues to help you avoid costly repairs in the future. We guarantee that the foundation repairs we do are done right the first time.
Lifetime Transferable Warranty
The majority of the products we use for foundation repairs are backed by a lifetime transferable warranty. If there happens to be a defect in the materials, we will make the necessary repairs at no cost to you. It also covers any adjustments that may need to be addressed with settling over the lifetime of the house. If you decide to sell your home, this warranty can make it more attractive to potential buyers.
Extensive List of References
When choosing a contractor for foundation repairs, it is important to find out what the experience was like for previous clients. We have an extensive list of five-star ratings from numerous satisfied customers for you to reference. The list also includes references for all our partners, which include architects, engineers, realtors, builders, investors and remodeling contractors. We have an unparalleled track record of success that you can trust.
Why Choose Anglin's Foundation & Masonry Repairs
Anglin's Foundation & Masonry Repairs is a family owned business in operation since 1930 in Atlanta. Unlike other competitors, our expertise goes beyond chimney and foundation repairs because we also build these structures. We offer excellent pricing and our warranty is the best in the industry. If you want the best choice for chimney or foundation repairs, contact us today for a free quote!
Posted on behalf of John Anglin, Anglin's Foundation & Masonry Repairs