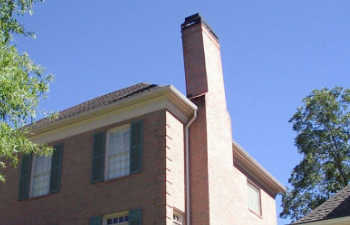 We have discussed how important it is that you have a chimney inspection as cold weather hits. It is essential that you ensure that this special feature in your home is safe. Well, what do you do if you find out that your chimney needs repair?
One of the most common issues with chimneys in older homes is with a chimney leaning and separating away from the house. This issue is a huge safety hazard that needs to be addressed immediately to protect your home, loved ones, and anyone who may come onto your property. Poor foundation construction, shifting soil, and inadequate water drainage are common causes for leaning chimneys. When the ground beneath your home or chimney is insufficient and causes your chimney to lean, it is often the case that the entire home is sitting on an unstable foundation. If you have any cracks in your chimney, gaps between the house and your chimney, or obvious leaning toward or away from your home – call Anglin's Foundation & Masonry Repairs right away.
Anglin's Foundation & Masonry Repairs offers qualified and experienced service to tilting, falling, and leaning chimneys. We have over 90 years of experience in using expert construction methods and masonry skills to complete structural chimney repair projects for your home correctly. Our company never takes any shortcuts in repairing your foundational issues. The chimney repair and restoration experts at Anglin's can get your chimney properly aligned against your home and eliminate any threats of your chimney falling.
If you suspect that your chimney needs repair, please do not put off calling Anglin's Foundation & Masonry Repairs. If you fail to hire a respected and professional chimney foundational expert, your family and your home are vulnerable to severe injury and damage. At Anglin's, we provide our customers with detailed inspections and free repair estimates. We have a commitment to excellence, and we offer a lifetime warranty. Anglin's Foundation & Masonry Repairs is the name to turn to for trusted chimney repair.
Posted on behalf of John Anglin, Anglin's Foundation & Masonry Repairs