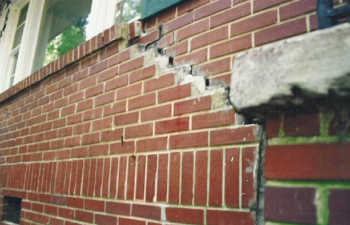 We all ignore certain things in life, and we all know how ignoring certain warning signs can get us into trouble. Just think about the last time you got a speeding ticket – you chose to ignore that speed limit sign.
Something that you should never ignore is any type of warning sign of foundation problems. Your home or business property should be safe for all those who enter it. Be on the lookout for these issues:
Cracks in bricks. If you notice any type of cracking in the bricks of your property, pay close attention. Cracks can vary in size but are generally in a zig-zag pattern throughout a portion of the brick and mortar.
Cracks in the floor. Cracks in tiles or flooring indicate that the foundation is being affected by settlement.
Cracks in sheetrock or drywall. While most cracks in the walls are only cosmetic concerns, it is important to pay attention to them. If they worsen over time or come back after sheetrock repair has been done, they indicate a problem.
Cracks in corners. It is essential that you do a yearly inspection of your home. If you notice cracks in the siding of your home around the corners, you need foundation repair services.
Cracks in stucco. Cracks in stucco typically create an ascending staircase pattern. These cracks are an indicator of foundational problems.
Gaps in the garage door. Pay attention to your garage. If you notice warping walls, a separation between the slab floor and the ground, or gaps around your garage, there are problems with the foundation.
Gaps in windows or doors. If you begin to notice gaps around doors or windows, it is important to call the experts. Openings like door frames and windows are usually where the foundational pressure is revealed.
Misaligned doors or windows. If windows or doors stick, this is an indication of a structural problem with your home or commercial property.
A leaning chimney. If your chimney is leaning toward or away from your home, your property is at risk. There is a structural or foundation problem.
Anglin's Foundation & Masonry Repairs is the name you can trust. We know that failure to address structural foundation problems in a timely manner can threaten the stability of your structure. Contact us immediately if you notice any warning signs of foundational problems.
Posted on behalf of John Anglin, Anglin's Foundation & Masonry Repairs