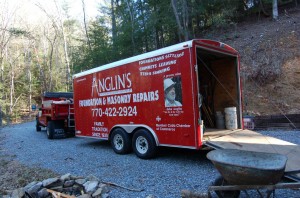 Just as with your health, finding issues and problems through early detection is the best way to treat problems and to prevent further, more severe, complications from occurring. Your home is probably the largest investment that you will ever make, so taking action early when major problems become apparent is the best way to secure your home. However, you must recognize the signs of an unstable foundation so that you can take action to repair it. Foundation problems will get worse over time, but catching signs of damage early on can save you a great deal of time and money.
There are often very specific warning signs that people may notice yet be unaware of what they are revealing about their home's stability. Exterior warning signs of a foundational issue include:
Brick Cracks – a "stair stepping" pattern near windows and doors or near the ground and corners indicate a sunken footing.
Exterior Mildew – mildew growing on base of the exterior walls indicates that there is improper drainage around the foundation.
Foundation Cracks – cracks and separation of patios, sidewalks, and exterior slabs as well as steps pulling away from a porch indicate unstable soil beneath the foundation.
Cracked Flooring – cracked or broken tile indicates that there are cracks in the foundation beneath the flooring.
Displaced Molding – gaps between the ceiling and the crown molding indicate that the home is shifting on the foundation and is unstable.
Cracks in Interior Walls – cracks in Sheetrock or plaster (typically found above or below windows) indicate that walls may be sinking due to soil bearing failure.
Fractured Basement Walls – soil pressure and/or movement of earth below the foundation cause horizontal cracks in the basement walls.
Sticking Door and Windows – doors and windows that "stick" or are hard to open, or doors and windows that look crooked in their casing are indicators that the framing of the house is under stress.
None of these signs should be ignored because they can cost a great deal of time and money to repair if damage is allowed to progress. Anglin's Foundation & Masonry Repairs has a lifetime of experience repairing foundational issues of homes. 90 years of experience has given us the reputation of exceptional service and outstanding results.
Posted on behalf of John Anglin, Anglin's Foundation & Masonry Repairs