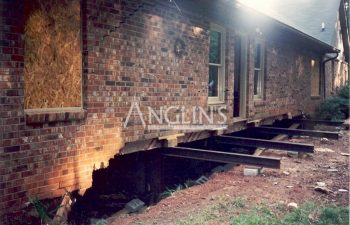 It is often hard to think of water as a dangerous compound. It is smooth, clear, and necessary for life, yet when you think of canyons that are carved over years of running water, you can begin to understand how water can cause untold damage to your home's foundation.
A typical home foundation is constructed of one of two options: a thick slab of concrete set into the ground, or a basement with thick footings and heavy mortar blocks. It may seem as though water could not cause much damage. Yet, water can negatively affect a home's foundation in a number of ways, both directly and indirectly. As with any type of erosion or rot, given enough time, water can cause extensive water damage that is extremely costly to repair. Here are ways that water can damage your home's foundation.
Ground Water – Hydrostatic pressure is a powerful force that can weaken a home's foundation and compromise the stability of a home. In areas where the water table rises near the surface, it can push against the underside of the foundation. This force of rising ground water is incredibly powerful, and it can infiltrate water into the basement through cracks and joints that widen over time – even permeating solid concrete.
External Pressure – How soil drains has a considerable impact on the external pressures of a home's foundation. If the local soil drains efficiently, rainwater quickly penetrates deep into the ground and is carried away. However, if the soil is dense (like red clay), water can accumulate around the foundation and exert significant pressure against the foundation walls. This pressure can cause gaps and cracks in the concrete, allowing water seepage into home.
Pooling – Water pooling on the ground surface around the perimeter of a house will eventually degrade concrete and mortar foundations. Even though the water is not in a constant moving motion, it will act as an erosion agent. Poor landscape design, clogged or overflowing rain gutters, and downspouts that are too short can allow water to flow toward the house instead of away, causing water pooling.
For solutions to the ways water can damage your home's foundation, contact Anglin's Foundation & Masonry Repairs.
Posted on behalf of John Anglin, Anglin's Foundation & Masonry Repairs