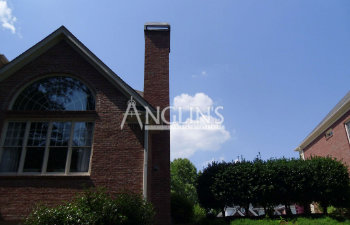 It may be hot now, but Old Man Winter is coming! Is your chimney ready for cold weather? Neglecting your chimney can lead to serious safety hazards. Anglin's Foundation & Mason Repairs is your North Georgia chimney expert. Our chimney inspections cover all three levels for a complete analysis. If problems are present, we'll find and repair them so you are ready for winter.
Level 1 Chimney Inspection
A Level 1 chimney inspection is the most basic and is recommended for chimneys that are regularly used and in good condition. During a Level 1 inspection, we will examine the readily accessible portions of the chimney, including the interior and exterior. Our professionals check for any signs of damage, such as cracks or missing bricks, and make sure the chimney is structurally sound.
Our inspector will also look for any obstructions in the flue and check that the chimney is properly lined. We will also ensure that the chimney is up to code and that the proper clearance exists between the chimney and combustible materials.
Level 2 Chimney Inspection
A Level 2 chimney inspection is a more in-depth inspection recommended for chimneys that have undergone any changes or had any problems. This includes chimneys that have experienced a fire, earthquake or other catastrophic event.
During a Level 2 inspection, your Anglin's Foundation & Masonry Repairs inspector will perform all the checks and examinations of a Level 1 inspection, but they will also use special equipment, such as a camera, to inspect the interior of the chimney. This allows them to see any hidden damage or obstructions that may not be visible during a Level 1 inspection.
A Level 2 inspection is typically required when a property is sold or transferred or when a new appliance is installed in the chimney.
Level 3 Chimney Inspection
A Level 3 chimney inspection is the most in-depth inspection and is generally recommended in cases where a severe hazard is suspected. This includes situations with a chimney fire or when the chimney has suffered severe damage.
During a Level 3 inspection, our skilled inspector will perform all of the checks and examinations of Level 1 and 2 inspections, but they will also remove specific chimney components to gain access to hidden areas. This may include removing parts of the chimney structure or even the wall or ceiling surrounding the chimney.
Thorough Chimney Inspections in Atlanta
Having your chimney inspected regularly is an integral part of maintaining the safety and integrity of your home. Whether you need Level 1, 2, or 3 inspections depends on the condition of your chimney and any past problems or changes. A professional from Anglin's Foundation & Masonry Repairs in Marietta can help you identify any potential hazards and recommend the necessary repairs to make your chimney safe and fully functional, so you are ready to build a crackling fire when the first snowflake falls.
Posted on behalf of John Anglin, Anglin's Foundation & Masonry Repairs