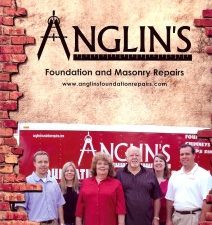 When you have a problem with your home's foundation, you need to hire an expert to get it repaired right the first time. Waiting to repair the problem or choosing an inferior contractor can make the difference in saving your home without spending more than is necessary.
Experience Means Expertise
While mixing up a batch of concrete may seem easy enough, properly repairing your foundation or other concrete structures like chimneys and slabs isn't something you should leave to a DIY video. Instead, you need to hire a professional who understands the vital importance of making sure your building foundation is stable and will last.
Experience is critical to a high-quality repair. Anglin's Foundation & Masonry Repairs has been doing business in the Atlanta area for 90 years. We are a family business, and nothing gets signed off on without owner John Anglin's personal guarantee.
Find a Contractor Who Gets It Right the First Time
The first promise you get from Anglin's is this one: "We fix it for life the first time!" No more return trips to fix what the last guy got wrong. Instead, rest assured knowing the job will be done the way it should be done the first time out. You don't have the time or money to waste hiring someone who isn't qualified and committed to doing a top-quality job on your foundation or masonry work.
Recommendations Tell the Story
When a customer isn't happy with a service they've paid for, you can guarantee word will get around. However, when people are happy with a contractor, they might take the time to say something. Anglin's is quite used to getting customer testimonials like this:
"Diagnosis and estimate from a picture, arrived as scheduled, done in just a couple hours and results were absolutely amazing. Price, workmanship, clean up – everything was absolutely 5 star!! Highly recommend these folks!!! I must add, 2 other well known and much advertised companies came out and estimated 6x the work and price, claiming we had more issues than what was actually going on. These guys call it like it is – honesty and integrity are hard to find in construction."  Melissa Reed
Anglin's has hundreds of positive testimonials from customers. Go right here to see more raves for Anglin's.
Guarantees and Warranties Matter
When a company backs up its work with guarantees and warranties, it's a good sign you have found someone reputable. At Anglin's, we guarantee your price and we warranty our work. If you find a lower price in 30 days for our work, we will beat that price by 10%. And our warranty is simple – it's for life.
Contact Anglin's Foundation & Masonry Repairs today to request your free quote for your masonry and foundation repairs.
Posted on behalf of John Anglin, Anglin's Foundation & Masonry Repairs