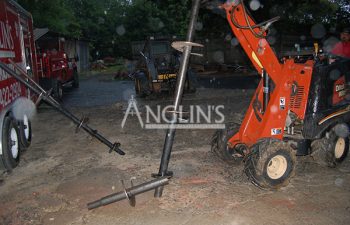 A strong foundation is vital for the durability of your home structure. Over time, shifting soil or corrosion can cause your foundation to crack or warp. Helical anchors can help secure the foundation to prevent and fix damage. Here is everything you need to know about helical anchors for foundation repair.
What are Helical Anchors?
Helical anchors are high strength steel screws used to secure the foundation deep into the ground. These screws can come in varying sizes and shapes and are generally installed in a grid-shaped pattern. This solution is ideal for areas where the soil is unstable to provide adequate support for the weight of the building.
How the Installation Process for Helical Anchors Works
The installation process can be quick, depending on the size and condition of your home and the amount of required depth. Helical anchors are typically installed prior to a laid foundation. These anchors can be used after construction for foundation repairs. In this case, the foundation is exposed by removing the ground around the repair site. The anchors are then drilled deeply into the ground at an angle.
A bracket may be added to provide security and hydraulics pressurize the anchors while lifting the foundation. A pipe may be fastened with bolts to the bracket to connect the anchors to the foundation. The foundation is then lowered to complete the repair process.
Does Your Home Need Helical Anchors?
If you notice signs of moving or shifting with your foundation, helical anchors can be an ideal solution. Any cracks along your walls or basement will need to be repaired before these anchors are installed. Steel push piers may be more beneficial for multi-level homes, as these can sustain a heavier weight than helical anchors. The best way to determine if helical anchors are right for your home is to speak with a foundation repair specialist.
Fix Your Home's Foundation with Helical Anchors
If foundation problems are not resolved, it could affect your home's value or lead to expensive repairs. Anglin's Foundation & Masonry Repairs are expert professionals in foundation repair with steel push piers and helical anchors. All work is backed by a lifetime transferable warranty and personal guarantee. Request an appointment for service today.
Posted on behalf of John Anglin, Anglin's Foundation & Masonry Repairs