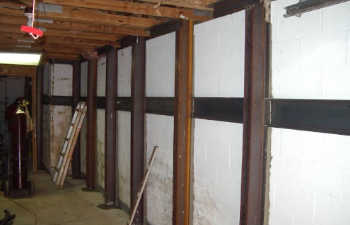 It would be almost impossible to find a home in Atlanta without a single crack in the basement walls. When the problem is minor, repair options are not all that costly. However, moderate to major cracks are both a safety hazard and potentially expensive to repair. Knowing the difference could save you money if the issue is addressed early.
Minor Cracks
In most cases, smaller cracks are caused by acceptable levels of settling. If a crack is an 1/8 of an inch or smaller, it is not likely the beginning of a structural failure. The main problem you may run into is moisture intrusion.
Epoxy filler is enough to repair small cracks, unless we suspect that there is a greater risk to structural integrity. Anglin's Foundation & Masonry Repairs can conduct a free inspection to determine the root cause of small cracks and make recommendations for correction.
Moderate Cracks
If you are dealing with moderate cracks, expect to see spaces of 1/8 to ¾ of an inch. These defects may indicate that there are structural problems, such as leaning in the foundation. Moderate cracks are more likely to get worse over time and become a major concern.
When we find moderate cracks in your basement walls, a foundation inspection is necessary. The good news is, Anglin's Foundation & Masonry Repairs can handle the entire project from foundation to walls.
Major Cracks
Larger cracks are ¾ of an inch or more in width. A leaning foundation is associated with major cracks and these issues are worth worrying about. The structural integrity of your home is compromised by large cracks and the root cause.
Do not ignore major cracks in basement walls. As foundation specialists, Anglin's Foundation & Masonry Repairs can assess what is going on and provide excellent services. We understand that your home is important to you. All our craftsmanship is guaranteed and we are passionate about restoring family properties in Atlanta.
If you are concerned about cracks in your basement walls, call Anglin's Foundation & Masonry Repairs to book a free inspection today. Do not let the problem get out of hand! We have the tools and experience you need to protect your home.
Posted on behalf of John Anglin, Anglin's Foundation & Masonry Repairs