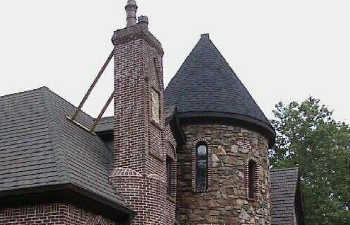 As the leaves pile up on the lawn, the fireplace indoors entices, doesn't it? The falling temperatures mean running your furnace and using your fireplace are about to re-enter the routine. Have you had your chimney inspected? It's always wise to get your chimney inspected in the fall before you start adding fuel to the fire. What goes up must go out, or you've got big problems.
Three Levels of Chimney Inspections
There are three levels of chimney inspections, which a certified chimney sweep must perform. They can go in order, with each one determining the need for the next level.
Level One Inspection
Level one inspections are the minimal level where the interior and exterior of the chimney are examined for any visible issues. No tools are used to reach areas that aren't easily accessible. This routine inspection is best suited when a chimney is in good repair and regularly used without any problems. Even though everything is working smoothly, it is still good to regularly have a professional chimney sweep inspect your chimney.
Level Two Inspection
Level two inspections are more in-depth. A level two inspection is needed whenever there is any change made to the chimney. These changes can include adding a flue, a chimney liner or a new fuel system. Level two inspections are also required if there has been any damage to the chimney or if the home is being sold. At this level, a certified chimney sweep uses a video camera to look at inaccessible areas of the chimney to determine if a level three inspection is needed.
Level Three Inspection
A level three chimney inspection is much more in-depth. It will include dismantling a portion of the chimney or the building to get a more detailed view of the problem. A level three inspection is called for when damage is sighted in a level one or two inspection. A level three inspection can be quite extensive, but it is needed to determine the extent of a chimney problem and repair it properly. Once the repair has been made, the damage incurred to reach it is also repaired, leaving you with a fully functioning chimney in your beautiful home.
If your chimney is due for an inspection, you need a chimney sweep with experience. Anglin's Foundation and Masonry Repairs has been in business for over 90 years. Anglin's believes any job worth doing is worth doing right. That's why they offer free chimney inspections with a quote on needed repairs. So, whether you are a real estate agent, a homeowner or a prospective buyer, contact us today for a free chimney inspection. We'll take of you and your chimney.
Posted on behalf of John Anglin, Anglin's Foundation & Masonry Repairs