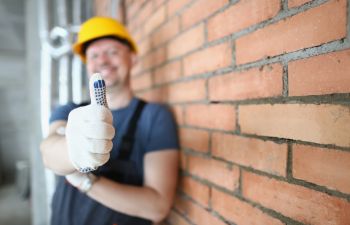 Everyone knows that owning a house means dealing with potential problems. For example, the furnace may stop working, or the siding may need to be replaced. Roof problems are par for the course after heavy winds and hail. However, one thing most of us do not expect to experience is the walls falling. Knowing what to do to prevent or repair falling walls can be as easy as calling a phone number.
What Causes Walls to Fall?
Many things can cause the walls in a building to collapse and fall. First, it can be related to a natural disaster, like an earthquake or a hurricane. Then, on the other hand, it may be a fire or a bomb. And finally, it could be due to a poor foundation under the building.
Can You See Warning Signs Before the Walls Fall?
While it's not always easy to spot the difference between cracks and fissures that come from normal settling and age and cracks that lead to disaster, there are signs you can look for that show it's time to call a contractor.
Crumbling or cracks in concrete should always be looked at carefully. You will likely see tiny hairline cracks first. With time, these cracks can widen and begin to bulge. Eventually, crumbles of concrete will begin to fall. This action is called spalling, and it's a red flag. If you see dark stains appear, this is a sign that the steel reinforcement bars in the foundation are corroding. Every bit of spalling allows more moisture in the concrete and worsens the problem.
Bowing floors and uneven floors are solid indicators of foundation issues. If the floors and the walls are shifting, leaving low or heaving areas or space separating the walls and the floor, things are in trouble. For example, you may notice doors or windows that won't open or close properly any longer. Also, straight-line cracks across the floor tiles indicate foundation problems.
Finally, look for diagonal cracks that start at the top of the door or window and spread downward diagonally. If these cracks are hairline, there is probably nothing to worry about, but there is trouble if they widen.
While these three are not the only signs signaling trouble on the way, they are all classic indicators of a failing wall.
Can a Falling Wall be Repaired?
Absolutely. A falling wall can be repaired by bracing it with steel pillars and using tiebacks, anchoring and pinning to support the wall. But it is vital to bring in a foundation expert with a reputation for excellent work without needing to return time after time. In the Atlanta area, that foundation expert is John Anglin and his crew at Anglin's Foundation & Masonry Repairs. Anglin's has been building and repairing foundations with excellence and craftsmanship for over 90 years.
Posted on behalf of John Anglin, Anglin's Foundation & Masonry Repairs