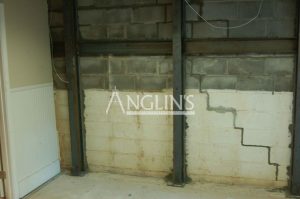 A home on a basement is a great asset to many families. A basement provides great space to store things such as tools, Christmas decorations, boxes of memories, and more. A basement also provides extra room in a home for an expanding family when a new baby arrives or parents move in. Having a basement in your home is great, but it also requires extra upkeep that a house on a slab does not. If you notice any signs that your basement walls are bowing or leaning, that is a "flashing neon sign" that your home has foundation failure.
Foundation failure generally occurs when excess pressure in the ground causes the foundation to shift. Excess groundwater puts a huge amount of stress on the soil around a home. With all of the rain that we have had in and around Atlanta this year, homeowners need to be especially aware of any changes going on in or around their basements.
Pressure from excess groundwater pushes against the exterior walls of the basement's foundation. If a home's foundational footings were not installed properly or the soil around the footings has been compromised by excess rain, temperature changes, or the result of freezing/thawing, the entire home is at risk. Any signs that basement walls are bowed inward or outward or that you have cracks in your basement walls point to your home being very close to major structural problems.
Anglin's Foundation & Masonry Repairs provides excellent solutions to your home's basement foundation issues. Helical Tie Back Anchors are used as a shoring method to straighten basement walls. These anchors are used on bulging walls to apply opposite pressure that cancels out the hydrostatic pressure from the ground soil. Our expertise in this solution makes Anglin's the name you can trust.
Anglin's Foundation & Masonry Repairs has been providing proven value to homeowners since 1930. We bring a lifetime of structural and masonry experience to every job. Call us today.
Posted on behalf of John Anglin, Anglin's Foundation & Masonry Repairs