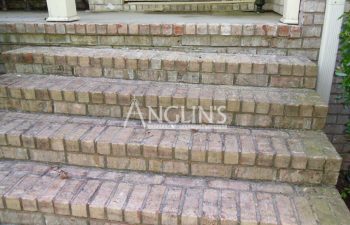 You have been in your house for years, and it has held up to the wear and tear of daily life well. You have worked hard to keep it in good shape. But what is going on with your entrance?
One thing that does need to be addressed is the shifted front stoop and/or steps. It is getting harder to safely get in or out of the house by that door. If it isn't fixed, it soon could become responsible for a sprained ankle or a nasty fall.
Steps and stoops that have drifted from flush and level are common. Figuring out who to call to fix them is the quandary. This repair is beyond a DIY or your local handyman's specialty.
How Did It Get This Way?
Once a builder has built most of a house, they fill in the gap between the outer foundation walls and the ground with backfill. It looks great. But it is not common for this dirt to be compacted before the final stairs or porch is added to the house. Over time, this backfill settles and sinks under the weight of your steps. This leads to the stairs or stoop slipping away from level and the house, and the need for repair.
Because the steps and stoop need a solid foundation to support their weight, the repair is not unlike the repairs needed on a foundation. Your local foundation specialist may recommend polyurethane injection, mudjacking (a temporary fix), installing an underpin using a helical pier(s) or removing and replacing the whole thing. The repair method chosen has a lot to do with what you need to accomplish and how long you want the repair to last.
Standard of a Good Repair
Putting your stairs and stoop on firm ground with a quality repair is what you should look for in a foundation specialist. Also, you will want someone who appreciates the finished project.
If you have a historic home, beautiful stonework or a particular brick, it is also important that after spending all that money, the repaired entrance to your home is not only once again safe but the repair leaves the entranceway looking nice. Take a look at the pictures of stoop and stair repairs done by Anglin's Foundation Repairs. That is the standard of a good repair. Contact us today to learn more about our repair methods and get a free cost estimate.
Posted on behalf of John Anglin, Anglin's Foundation & Masonry Repairs