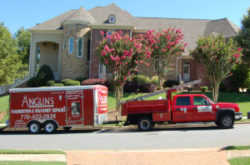 You can trust Anglin's Masonry to level your sinking concrete flooring. We first determine the cause of your problem and then create a plan to repair and level your sinking, sloped or sagging concrete floors. There are several reasons your concrete slab may be compromised.
You may have soil washout under your concrete slab. The source of the water washout may be a plumbing leak, large amounts of rain or erosion. When your soil washes away it takes away some of the support of your slab. Over time, your slab will crack or sink because there is not sufficient support to hold it up.
Your fill soil may not be compacted correctly and lead to your problem. This problem happens during the construction phase of your concrete slab. If the soil placed under your concrete slab is not compacted properly then settlement is likely to happen. While you soil settles under your slab, it creates an empty space between the ground and your slab. This space allows for your slab to sink, break, crack and fill that empty space left by the sunken soil.
The content of moisture in the soil under your slab may have changed. Different soil types can react to wet and dry differently. Clay, for example, holds water and will expand in size. Constant dry weather can cause tree roots to draw water from areas close to or under your slab and this causes a gap between your slab and the soil. This gap creates the cracking, sinking and breaking of your concrete slab.
Contact Anglin's today. We'll come out and diagnose why your concrete is cracking, sinking or breaking and provide you with a professional solution to level it.
Posted on behalf of John Anglin, Anglin's Foundation & Masonry Repairs