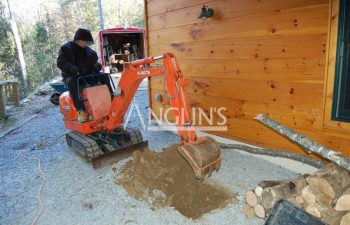 Sagging floors are common in homes in the Atlanta area, especially in older homes built over a crawlspace. We can reassure homeowners that the problem can be fixed in no time, but it is not a DIY job to attempt yourself.
Why Do Floors Sag?
Floors can sag for a variety of reasons, but the most common reason for floors sagging that are built over a crawlspace is a lack of a solid foundation. The floors may have been perfectly fine for years; but over time, the structure can weaken or even crack.
A sagging floor won't get better by itself, but it will almost certainly worsen over time. Uneven floors give an undesirable look and feel to the home. It could also be a sign of a serious structural issue that can lead to the loss of your floor and cause damage to your home's foundation.
How Are Sagging Floors Fixed?
We can add 6″ steel leveling beams to bring everything level. If existing joints have weakened or cracked, they are reinforced. Joists that are broken can also be fixed by splicing them and reinforcing them to create a sound structure for the floor.
Hydraulic floor jacks are used to raise sagging areas to bring the floor back to its original level. Precast engineered supplemental footers can be used to add extra support where the floor lacks a solid foundation over a crawlspace. These footers are 6 inches thick and can be 24″ round or 18″ square footers. These footers are placed on poured concrete footings to create a strong and stable structure that can last a lifetime.
Why Call an Experienced Professional?
An inexperienced person may be able to lift your floor with a hydraulic jack, making it appear level. But this doesn't fix the underlying problem. Moving the floor without the correct reinforcements can cause even more damage to the joists. Hydraulic jacks aren't designed to be permanent solutions, either; they lack a solid footing and can come out of place, especially in the case of extreme weather.
The last thing you want is to make the problem worse. Anglin's Foundation & Masonry Repairs has a proven track record with decades of experience in repairing the foundation and structural problems of homes. All our work is backed by our Price Protection Warranty, and John Anglin's Personal Guarantee.
If you have a sagging floor built over a crawlspace, contact Anglin's Foundation & Masonry Repairs with our online contact form or call today at (770) 422-2924 to receive your free quote.
Posted on behalf of John Anglin, Anglin's Foundation & Masonry Repairs