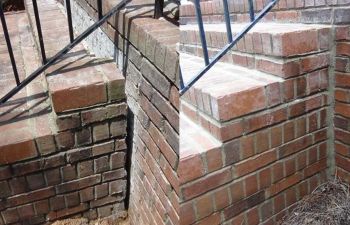 Do your front steps seem to be slowing sinking since you moved in? It is not uncommon for concrete steps to settle over time. Concrete is heavy, and the soil underneath it can become too weak to support it, causing your steps to crack, sink or become unleveled.
Before you resort to tearing down your settling stairs and starting over, you should know that Anglin's Foundation and Masonry Repairs has a solution. Our structural engineers and masonry repair experts are fully equipped to repair and level settling stairs. Our hydraulic piers are proven to achieve the proper soil depth to lift the stairs back to their original position. This is an effective and permanent solution, as tearing them up and rebuilding them will only result in settling again and wasted money.
What Causes Stairs to Settle?
Your outdoor steps are exposed to extreme weather elements and repetitive use throughout the year. Stairs that once stayed level may show their poor construction or lack of support over time. There are several possible causes of steps settling or sinking, including:
Soil compaction

When the soil underneath the steps becomes compacted, it can cause the steps to sink over time. This can happen naturally or as a result of heavy foot traffic.

Moisture

If the soil underneath the steps becomes saturated with water, it can cause the soil to become soft and unstable, leading to settling or sinking.

Shifting soil

Changes in the moisture content or temperature of the soil can cause it to shift and move, which can result in settling or sinking of the steps.

Poor construction

If the steps were not properly constructed or installed, they may not be able to withstand the weight of people walking on them, causing them to settle or sink.

Foundation issues

If the foundation underneath the steps is unstable or damaged, it can cause the steps to settle or sink. This can happen as a result of natural settling over time, or due to damage caused by environmental factors like earthquakes or flooding.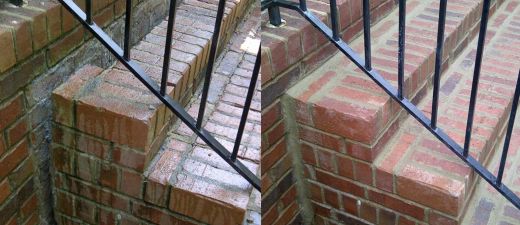 How Can Steel Resistance Piers Help and What to Expect?
When steps are built on settling soil (such as improper backfill of the foundation), we know what to do at Anglin's Foundation and Masonry Repairs. We can install steel resistance piers to reach proper bedrock soil bearing strata.
Steel resistance piers, or hydraulic piers, can be an effective and permanent solution for fixing settling steps, and helping you avoid the hassle and expense of tearing down the steps and starting over.
Here's the basics of what happens when choosing Anglin's to fix your settling steps with steel resistance piers:
Assessment

One of our team members will inspect the area around the settling steps to determine the extent of the settling and the underlying causes.

Preparation

The area around the steps will be cleared and prepared for installation of the steel resistance piers.

Installation

Steel resistance piers will be installed deep into the soil underneath the steps until they reach a stable soil layer. This is done using hydraulic equipment that applies pressure to the piers to push them into the ground.

Stabilization

Once the piers are in place, they will be attached to brackets that will support the steps and prevent any further settling.

Cleanup

After the installation is complete, our team is careful to clean the area around the steps and restore it to its original condition.

Let Us Fix Your Sinking Stoop Today!
Settling steps and sinking structures around your home can be concerning – but it is not uncommon and certainly not unrepairable in most cases. Trust our qualified foundation repair specialists to determine the best course of action for your sinking stairs. Call Anglin's for your estimate in Atlanta.
Posted on behalf of John Anglin, Anglin's Foundation & Masonry Repairs