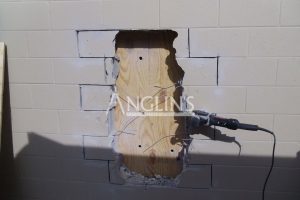 Did you know that your basement walls can make a statement and tell you a story? If you have certain issues occurring on your basement walls, it's time to listen to what they're trying to tell you. If you have walls that bow inward or outward or cracks in your basement walls, listen up! These types of issues are signs of much deeper issues that could be present in your home. Failure to properly repair these problems can threaten the structural integrity of your home, and ultimately affect the value and safety of your home as well.
Did you hear the story of the lady who discovered a much different story in her basement? Not only did she discover cracks in her basement wall, but she also discovered a much deeper story being told. It turns out that as the repairman was digging deep into the foundation to repair the walls, he discovered a large hole in the basement floor that leads to another hidden room. The hidden room was most likely used in the Underground Railroad!
Wow, what a story! You can read more about the discovery here.
If your basement walls are trying to tell you that they need the attention of a foundation or masonry repair professional, call Anglin's Masonry today! We will come out and "listen" to and inspect your issues in your basement or foundation. We will offer you a free quote and offer to fix the problems that can threaten the structural integrity of your home. Call us today!
Posted on behalf of John Anglin, Anglin's Foundation & Masonry Repairs