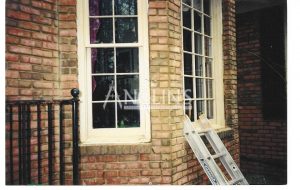 Bay windows give a timeless feel to your home. They are sophisticated and stylish and allow more light to enter your home. The arched and extended exterior wall allows for more windows to be placed maximizing the interior lighting of your home. They originated in the mansions of the English Renaissance and were used extensively in Victorian architecture. Their multiple benefits include: curb appeal, additional natural light, and further available space in your home. You can view a wide variety of bay window types in this gallery.
When your bay windows are functioning correctly, they add great curb appeal to your home and allow you to open your windows and enjoy the fresh air. When was the last time you tried to open your bay windows? The cooler temperatures in the fall will allow you to enjoy the cooler fresh air in your home. If you can't open your windows in your bay area, it may not be due to faulty windows, but you may have home settling problems.
When your home begins to settle your structural framing may start to collapse. This issue will cause your bay windows to bind and they are no longer able to function correctly. If your bay windows are not working correctly, it's time to call experienced contractors to come out and take a look at it.
Anglin's Foundation & Masonry Repairs For Your Bay Windows
Anglin's has been helping homeowners since 1930 by repairing bay window structures, sagging window frames and jammed windows due to structural problems or settling. Call us today to request a free quote.
Posted on behalf of John Anglin, Anglin's Foundation & Masonry Repairs