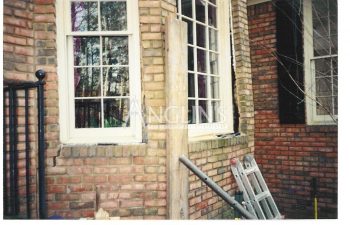 Big windows provide a great source of natural light into a home. Bay windows have been a popular window choice for years because they provide beautiful light entry and a visual appeal that can make a room seem larger than it is. Yet, with the beauty that these windows provide, because they are so large, they can present problems that windows flush with the walls do not.
After serving the Metro Atlanta area for over 90 years, Anglin's Foundation & Masonry Repairs has found that many homes are not built with proper construction. Bay windows need specifically added support to hold the additional weight of a much heavier window. Considering that many people also put furniture in a bay window space, the additional weight of the entire area can be incredibly heavy. Anglin's has helped hundreds of Atlanta residents resolve window problems, with particular expertise in correcting foundation settling problems and bay window repair.
The most common issue with bay windows is that their sheer weight and size can cause the entire bay area to sag. When windows sag, they are almost impossible to open, can let in unwanted water and pests, and can compromise the stability of your home. To get bay windows back into place, hydraulic jacks are used in each corner of the window to slowly lift the window back into its proper position. We have the expertise to install the necessary framing support for heavy windows.
Another cause of sagging bay windows is home settling problems. As the ground beneath a home shifts and settles, the foundation can shift and settle with it. A home that moves on its foundation will present major problems to its integrity. At Anglin's Foundation & Masonry Repair, our experienced contractors will take care of the foundation settling problems.
If you have a bay window that has sagged to where the windows are out of square and no longer open or align properly, contact the experts at Anglin's Foundation & Masonry Repair. We have been serving Atlanta since 1930, and we have the know-how to correct bay windows and foundational repairs. At Anglin's, we fix it for life – the first time!
Posted on behalf of John Anglin, Anglin's Foundation & Masonry Repairs