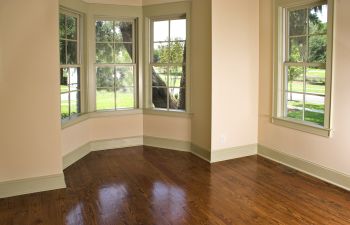 Bay windows are a beautiful way to add more light to your room and provide a nook for seating. Often bay windows are used off a kitchen as part of the breakfast nook, or you can have a bay window in the family room or living room and add cushions to have a cozy place to read. Bay windows are also great spots for plants; even your cat will love them.
What is a Bay Window?
A bay window is a window that bows outward from the wall and contains three sections. The bay window has a large front window and windows on either side. Because a bay window protrudes from the walls, the bay window must be properly supported. If not, they can begin to sag and move away from the house's foundation.
Are Bay Windows Old-Fashioned?
Bay windows were popular years ago, but are they old-fashioned? When building a home, natural lighting is a big plus. A bay window allows much more light than regular windows. Because the light is so good, a bay window can be a boon to a plant lover, offering a wide area to display potted plants or seedlings. In addition, a bay window can be used as seating.
Do Bay Windows Cause Problems?
Obviously, windows are made of glass, and bays are no exception, so there is always the potential for breakage. However, there are a couple of issues that can cause problems. First, many bay windows leak when it rains. Many times, this can be repaired with weatherstripping. However, the scary problem is when the window sags.
Because the bay window is extended from the main foundation and the windows are extremely large and heavy, sagging can be a problem. In addition to the weight of the bay window, furniture such as a table adds more weight. If your bay windows begin to sag, problems can happen. As the sagging increases, the windows become harder to open or close and can jam.
When your bay window needs repair, it is essential to choose a foundation expert to ensure the repair is permanent and effective.
How Can I Protect My Bay Window?
Anglin's Foundation & Masonry Repairs is your North Atlanta go-to source for all foundation and brickwork. They've provided the Atlanta area with quality foundation and brickwork for over 90 years. In addition, we can support and repair your bay windows, so they are safe and secure.
Posted on behalf of John Anglin, Anglin's Foundation & Masonry Repairs