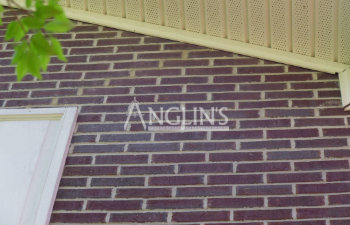 As a homeowner, you need to be aware of any potential issues with your brick walls. One common problem that can arise is cracks in the outer brick walls. Various factors can cause these cracks, and it's essential to understand what they are and how to address them. Anglin's Foundation and Masonry Repairs are the Atlanta area specialists at masonry repair, and we can assess the cracks in your exterior brick walls and propose the best solution.
Below we review some common reasons cracks can form in the exterior brick walls of your home and some ways to address them. Contact us today to learn more and receive a free quote on repairs.
Why Do Brick Walls Crack?
The first thing to understand is what causes cracks in brick walls. One common cause is settling. Over time, the ground beneath your home can shift, causing your foundation to settle. This can put pressure on your brick walls, causing them to crack. Another common cause is moisture. If your walls are exposed to water for prolonged periods, and this moisture penetrates behind the brick and mortar, this can cause the mortar to weaken and the bricks to crack. The mortar can also flake away, leaving more significant gaps between bricks for water to enter.
Once you've identified the cause of the cracks, it's important to address them as soon as possible. Ignoring the problem can lead to more severe issues, such as water damage or structural instability.
Common Methods for Repairing Cracks in Brick Walls
One option for addressing cracks in your brick walls is to fill them with mortar. This involves removing any loose or damaged mortar from the crack and filling it in with new mortar. This can be a relatively simple and inexpensive solution, but it's vital to ensure that the new mortar matches the color and texture of the existing mortar.
Another option is to replace the damaged bricks altogether. This can be a more costly solution, but it's often necessary for extensive damage. It's also essential to ensure that the replacement bricks match the color and texture of the existing bricks.
In some cases, cracks in brick walls may indicate a more severe issue, such as foundation problems. If you suspect that this may be the case, it's important to consult with Anglin's Foundation and Masonry Repairs as soon as possible. A timely examination and professional repairs could prevent more severe damage to your home.
Experienced Brick and Masonry Repairs Around Atlanta, GA
Cracks in outer brick walls can be a common problem for homeowners, but they can also be addressed with the right approach. Understanding what causes these cracks and how to manage them ensures that your home remains safe and stable for years. Anglin's Foundation and Masonry Repairs has extensive knowledge and experience in repairing cracked brick and masonry to preserve your home's structural integrity and beautiful appearance. Contact us today for a free quote on repairs.
Posted on behalf of John Anglin, Anglin's Foundation & Masonry Repairs