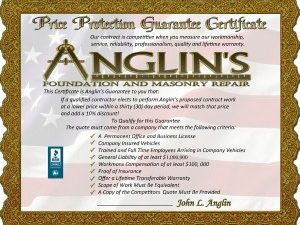 Money matters to just about everyone. When you invest a large sum of money into something, you want to make sure that your investment increases in value. When you invest trust into an individual or business, you want to make sure that you have done your due diligence to place your trust wisely. When you purchase a home, you are making one of the most significant investments of your lifetime. Putting so much money towards something can be scary, so you want to do your part to protect it. If something goes wrong with your property, you face having to make another investment to protect the first one. Choosing a company to trust is a huge decision.
We have all heard stories of contractors leaving in the middle of a project or doing shady work that leaves homeowners worse off and with far less money than before a project began. It is an unfortunate situation when something like this occurs, which is why you want to make sure that you have chosen a company worthy of your trust before beginning a massive project.
Anglin's Foundation & Masonry Repairs has been around since 1930. We have over 90 years' worth of experience in foundation solutions. We can accurately diagnose the problems with a home or residential property to determine the best course of action needed. Many of our clients are not sure exactly what is wrong when they call us, but they can trust us to offer a precise and honest evaluation of the situation. After 90 years in the business, we have not earned our high reputation by taking advantage of customers – we have earned it the old-fashioned way through honesty, integrity, and hard work.
Anglin's is the name you can trust for your foundational issues. Many times in the past, we have had other contractors refer their business to us because they knew that we have the knowledge and experience to repair the most unstable foundations. Anglin's Foundation & Masonry Repairs is a top customer-rated business, and we have been on Angie's List of recommended professional companies for years.
We offer a price protection guarantee and a lifetime, transferable warranty. As technology has grown, we have grown with it using state-of-the-art equipment and systems to do the job right – the first time.
Contact Anglin's Foundation & Masonry Repairs today for an extensive list of references and to receive trusted help for your foundational repair.
Posted on behalf of John Anglin, Anglin's Foundation & Masonry Repairs