History
Our Company History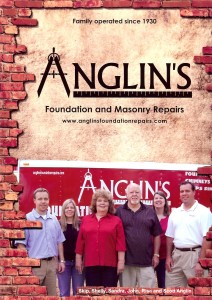 My father, Olin L. Anglin, started the family foundation and masonry repair company in 1930 as O. L. Anglin and Sons. His ambition was to offer a superior masonry service for all types of masonry needs. Constructing and repairing masonry footings, foundations, brick, block, stone, concrete, retaining wall reinforcement, and total foundation/wall stabilization. Dad, along with my six brothers and I, put a lot of sweat equity into the family business. My earliest memories are riding at the age of five in a pickup truck with dad watching him repair homes . . . I remember the pride and passion dad took in his work.
In the beginning everything had to be done by hand. Dad created what we accepted to be "The Family Method". First, we began by digging under footings approximately six feet, then drive down three # 8 steel rebar to bedrock or equal load bearing strata. Second, we would fill each hole with concrete and let it cure for several days. Finally we would lift the foundation by hand using hydraulic bottle jacks. Compared to our method today, this was not an easy way to lift up foundations and repair them.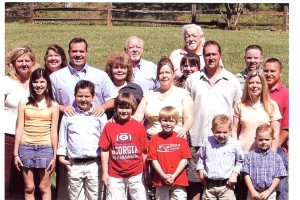 As times have changed and our family business grew to a fourth generation, we have improved on "The Family Method". Our policy of continuous product improvement and services of all masonry repairs is constantly changing to keep up with new technology in the foundation repair industry. Growth of our customer base since I took over in 1960 has grown tremendously. Additional family trade secrets and better ideas during field testing greatly increases our productivity and our method to provide the best structural repairs at the best price. We take pride in what we do and completely satisfy all our customers. We are not a franchise: We have been family owned and operated serving Metro Atlanta since 1930! One thing has never changed…"Our Family tradition offers quality work and solutions to foundation problems at affordable prices!"
OUR COMMITMENT:
Our mission is to provide a permanent engineered/designed foundation solution through the developement of innovative products and systems,
installation and services at the very best price!
Anglin's: A company BIG enough to serve yet SMALL enough to CARE! Simply the best, Or Nothing. One stop shop, we do it all.