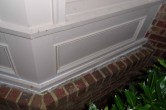 Over time, windows and doors may become more and more difficult to open. While some minor sticking of windows and doors may be caused by heat and humidity changes throughout the year, major sticking is something to be concerned with. Anglin's Foundation & Masonry Repairs is the trusted local foundation repair company offering professional services for window repair. Our foundation specialists offer Georgia homeowners solutions that repair foundation issues that affect windows.
Common signs of sticking windows and doors that need a professional consultation are when windows require significant force to be opened and closed. Windows that do not close properly have cracks around the corners of the window openings, or windows that are out of their frames need professional attention. Windows often become stuck, difficult to open or close, or have cracks due to structural problems. These problems are often a result of sagging walls and settling foundations. Over time, home foundations can shift due to erosion or structural issues within the home, which can cause windows to malfunction, become damaged, and need repair. When a foundation settles, the structural framing of a home will begin to collapse causing the windows to bind.
Anglin's Foundation & Masonry Repairs can help those homeowners who have windows or doors that are jammed due to home settling and foundation problems. Our experienced contactors will restore the home's foundation by installing any necessary framing support. We have been a trusted source for foundation repairs since 1930, and we promise what we do and do what we promise. Call us today with any of your window or foundation repair needs.
Posted on behalf of John Anglin, Anglin's Foundation & Masonry Repairs