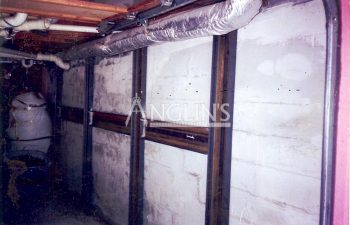 When foundation problems begin to show themselves in your basement walls, it is time to contact a structural expert. Hydrostatic pressure can cause cracks in the walls of your basement, flood your basement, and ultimately cause significant structural damage to your home. Hydrostatic pressure is the outward and downward pressure that is caused by standing water pushing against any object that blocks it. When this pressure is pushing against your exterior basement walls, your basement walls can become stressed by thousands of pounds of unforgiving hydrostatic pressure.
Homes that are most susceptible to damage caused by hydrostatic pressure are those with a foundation or basement built entirely or partially below the water table. Houses that sit on a hillside where water runs down from above are also vulnerable to the significant force known as hydrostatic pressure. It is also important to note that homes built more than a decade ago typically have a lower quality concrete used in their home's foundation construction. Regardless of the quality or whether water constantly pushes against your basement walls, there are visible signs that indicate basement moisture problems due to hydrostatic pressure. These visible signs include:
Efflorescence (a crystalline deposit of salts that forms on concrete, brick, or stone)

Humidity in the basement

Mold growth

Walls that bow inward or outward

Cracks in the wall

Strange smells in the basement
When basement walls show these signs, your home could be very close to having a major structural problem. Problems with basement foundations can cause pressure on your wood framing and cracks in your interior drywall or exterior brick or stone walls. Failure to properly fix these problems can threaten the structural integrity of your home.
Anglin's Foundation & Masonry Repairs is the name to trust if you are looking for a foundation repair company that will fix your foundation right, for life. We offer free inspections, and we are happy to provide you with a free quote. Anglin's has been the name that homeowners have turned to for over 90 years here in the Metro-Atlanta area. Call us today.
Posted on behalf of John Anglin, Anglin's Foundation & Masonry Repairs