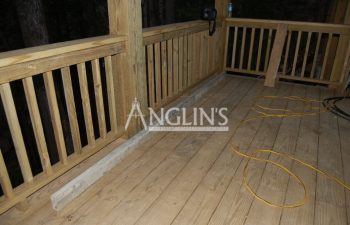 Summer is here and now is the time to enjoy all the time you can on your deck. Decks are an extension of your home's living space in warmer weather. Decks are the perfect place to entertain or have available for overflow from a large party or family get-together. They are also a great place to go to just get some fresh air.
Preparing to Entertain
Safety for you and your guests must come first. After a winter with the ground freezing and heaving, you may find that your deck is no longer level. Perhaps it has begun to separate from the house. It is common for this to happen over time. Now is the time to address the issue while it is not so overwhelming and before the lack of proper support causes more damage to occur.
The Heavy Load
It is important for the safety of your deck to have level posts. As it is the foundation of the structure, it must be capable of carrying great loads of weight. The deck boards alone are heavy. Add your furniture and people and the weight each of your deck posts carries becomes huge. Over time, as the weight becomes more unevenly distributed, the deck will deteriorate further; but this is preventable.
The DIY Question
The internet is full of DIY repairs for deck post settling. But, do you have all the muscle, tools and skills needed to do a proper job that will last for years to come? You may spend more on tools you may never use again than it might cost to have an expert do the job. Anglin's Foundation and Masonry Repairs has the expertise and experience to get the job done right the first time. This will save you time and money.
What to Do Now
Don't let a sinking deck post stop you from enjoying your property. A deck is well worth preserving. A nice deck improves your property value. Anglin's Foundation & Masonry Repairs has proven their value over and over again since 1930. If you are in the Marietta or Atlanta areas, call now for a free quote.
Posted on behalf of John Anglin, Anglin's Foundation & Masonry Repairs