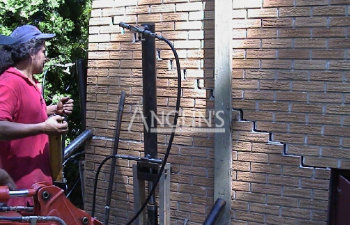 If you're like most Americans, your home is likely the biggest and most important investment you have ever made. It's not just the safe haven that keeps you safe from the elements and the outside world; it's also an important part of your financial landscape. For this reason, it is absolutely vital to cut foundation damage off at the pass the first time you notice warning signs. Here are early warning signs there may be trouble brewing with your home's foundation.
Cracked Walls, and Warped Floors and Drafts, Oh My!
Floors that warp like a vinyl record left in the Atlanta sun aren't just a tripping hazard that make it impossible to level your furniture; they're also signs of serious foundation trouble. If your warped floors are accompanied by cracks in interior walls, it's an even stronger sign that foundation settling or other issues are damaging your home. Funhouse floors and wall cracks aren't the only way a struggling foundation can make your home feel less comfortable.
Do you spend the colder months avoiding areas in front of doors or windows in your home due to the chilly, unpleasant drafts? You know drafty doors and windows cost you a pretty penny in home heating and cooling, but they can also be signs of a much larger problem. If there are windows that no longer close smoothly, doors that stick or similar issues affecting the interior of your house, it could be a sign of foundation damage.
Save Your Home from Foundation Damage
Extensive foundation damage is expensive, difficult and incredibly disruptive to repair. It's much better to catch the signs of trouble before they compound into bigger, more complex and more expensive fixes. It's important to understand that not only will foundation damage not go away on its own, it will also only continue to deteriorate more with the passage of time. The more you put it off, the more expensive and complex the eventual repairs.
Anglin's Foundation & Masonry Repairs have been providing safe, effective and secure foundation repair services in the Atlanta area for more than half a century, which means there's nothing they haven't seen. The foundation repair experts at Anglin's can help you restore the value of your home investment and keep it safe for years to come. Call to schedule an appointment for an inspection today, for your home's sake.
Posted on behalf of John Anglin, Anglin's Foundation & Masonry Repairs