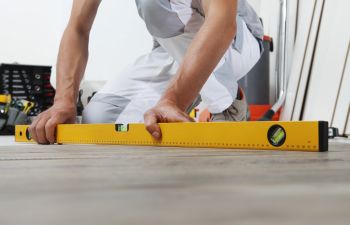 There is no doubt that a sagging floor will give you cause for concern. These structures are constructed to handle high footfall and support the weight of the furniture. However, if you walk on a floor and it doesn't feel secure, Anglin's Foundation & Masonry Repairs can provide solutions.
Many residential and commercial properties in Atlanta have structural problems. Floors are an important feature that should be level and safe. Sagging is usually a sign of poor support or a complete lack of load-bearing structures.
Crawlspaces
One of the most often-seen contributing factors to sagging floors is the presence of a crawlspace. While buildings with a crawlspace are not unusual in Georgia, poor workmanship can result in a lack of support. Steel floor leveling beams can resolve this problem.
At Anglin's Foundation & Masonry Repairs, we can use hydraulic equipment to level your floor. We then use steel floor leveling beams to improve support. Every property is different; however, precast footer blocks are often required to ensure structural integrity and safety.
Sloping Floors
Some home and business owners choose to ignore sloping floors if there is no apparent safety concern. Unfortunately, this issue can worsen over time and lead to structural issues. If adequate load-bearing walls and other structures are missing or damaged, your property is at risk of collapsing in a worst-case scenario.
In many cases, the work it takes to reinforce load-bearing structures is minimal. However, repairs often become more expensive the longer a problem is ignored. The risk to life and limb is another important reason not to delay a structural inspection in Georgia.
Sloping or Sinking Floor Inspection, Atlanta
To put your mind at ease, Anglin's Foundation & Masonry Repairs can provide a free estimate of any work that needs to be completed. In addition, we can inspect your floors for structural problems and recommend appropriate and lasting solutions. Our team is courteous and will work diligently to protect your property value.
Call Anglin's Foundation & Masonry Repairs if your floors are noticeably sinking. We serve customers in and around Marietta, GA.
Posted on behalf of John Anglin, Anglin's Foundation & Masonry Repairs